介绍
Microsoft PowerToys是一组实用程序,供高级用户调整和简化Windows体验,以提高工作效率。受Windows 95时代PowerToys项目的启发,此重启为高级用户提供了从Windows 10 shell压缩更高效率并针对单个工作流进行自定义的方法。
微软官方出了的一款系统增强功能,实测功能非常实用。值得下载。
软件截图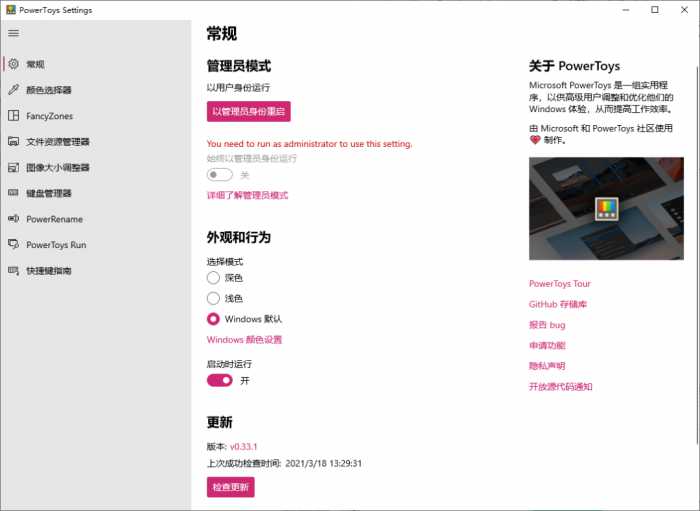 软件特点
聚合搜索
聚合搜索
文件快速预览
快速调整图片大小
自定义键盘映射
批量重命名
显示快捷键
更新日志
PowerToys 0.70.1
#26142, #26439 and #26525 - UX improvements in the Peek and Mouse Without Borders settings pages.
#26152 - The new PowerToys Run plugin for opening other PowerToys was missing some files in the installer and should work properly now.
#26235 - Peek and Mouse Without Borders process crashes in event viewer should now be reported correctly on Bug Reports.
#26150 - The Peek shortcut is now only captured if the active window is the Desktop, Explorer or Peek.
#26192 - Users can now use the Settings to specify host name and IP correlation in Mouse Without Borders, to account for VPN scenarios.
#24047 - Fixed a cause for possible leaks and/or infinite cycles in C# utilities that use events.
#26137 - The Peek windows can be closed using the Escape key.
#26181 - Created a setting for Peek to always run not elevated, so that it handles files in network shares correctly.
#26318, #26373 and #26431 - Peek and dev file preview now support showing Visual Studio project common files and .ini compatible files.
#26419 - Fixed a blinking issue when loading code files in Peek.
#26160 - Fixed a playback notification that would stick when using Peek on video files.
#26243 - Peek now tries to appear on the same monitor as the File Explorer window that triggers it.
#26133 - Fixed small Peek UI on high DPIs.
#26361, #26162 and #26478 - Reduced Peek memory usage and possible leaks.
#26246 - Fixed Mouse Without Borders layout always resetting to one row after some time.
#26366 - Added a setting to close the Peek window after it loses focus.
#26338 - Fixed the mouse activating thumbnails on top of the screen when switching to another machine in Mouse Without Borders.
#26470 - Fixed a silent Peek crash when trying to open it from File Explorer with no files selected.
#26261 - Fixed an issue causing Mouse Without Borders to prevent other connected machines from going to sleep.
#26454 - Disabled a deprecated shortcut in Mouse Without Borders that was interfering with other software.
#26517 - Don't remove the Mouse Without Borders service on upgrade. This issue will still affect users upgrading from 0.70.0 to a newer version, but it's fixed going forward.
#26521 - When Mouse Without Borders detects the service doesn't exist, it will still try to operate in the "no service" mode.
#26524 - Fixed a bug causing Mouse Without Borders to click a window on the current machine when switching to another machine.
#26259 - Added a winget-cli configuration file for PowerToys.
下载地址